Driving to the airport: 2
Views from a moving car...




... except the car had actually stopped at this point (beside the Pacific Highway, west of Byron Bay, looking north-west) so I could take these three shots (stitched together in a panorama) when a vehicle parked in front of us. The occupants - jumping out to see if we were all right - were Mr Soccer Head (brother-in-law) and Stringbean (nephew)! It's not often that a highway feels so friendly.



Mount Warning, called Wollumbin by local Aboriginal people, near Murwillumbah, looking south-west. The peak is the central magma plug from an extinct shield volcano.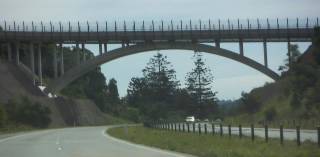 Recent highway upgrades have produced some lovely-looking bridges.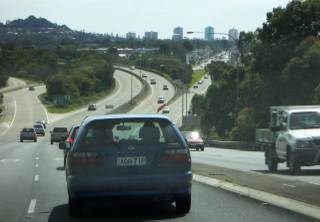 Looking north towards Tweed Heads and Coolangatta, the towns either side of the New South Wales/Queensland state border which form the southern end of the Gold Coast.

I can't remember for sure, but think this is the Nerang River, looking west.

Brisbane and the Brisbane River, looking west from (and through the bars of) the Gateway Bridge.
(I don't recommend doing this because it's stupid and dangerous and I should have been punished by death, but...) Here's a shot taken sight unseen while I was driving home - Mount Warning in the west, under a dramatic afternoon sky.
Thanks to new roads, the whole trip from here (north coast of NSW) to Brisbane airport takes less than 2.5 hours. The route is a typical highway/motorway for most of the journey, so not much of it is scenic, and if you tried to drive slowly you'd probably get squashed by a B-double (semi trailer with additional trailer - a huge and fast-moving truck) but it is quick and easy.